---
In Memory of
Gary L. Rodgers
Website Creator

Gary L. Rodgers I, a longtime Hayward resident, died peacefully in Hayward on August 14, 2007, after a long and courageous battle with Multiple Sclerosis. He was 67. He is survived by his father John T. Rodgers, and mother, Joyce Bailey; Brother, Don Rodgers, and sister, Joan Himmel: Sons, Robert Rodgers, Mark Rodgers, and Gary L. Rodgers II; Grandchildren, Daniel, Kristopher, Ashley, Victoria, Weston, Cassidy, and Alexander, and many uncles, cousins, nieces, and nephews.&nbsp
Born on November 6, 1939 in San Diego, he attended Hayward High School and graduated from Santa Rosa High School. Gary was honorably discharged from the US Navy after serving his country as an Aviation Electronics Technician, during which time he was assigned to Attack Squadron 95, otherwise known as the "Skyknights". He would later attend California State University in Hayward and earn a BA degree in Geography.
Gary devoted himself to a career in Pacific Bell for 29 years where he worked as an Engineering Manager. Upon retiring, he would occasionally work as a substitute teacher for the Hayward Unified School District. He is a lifetime member of the Telecom Pioneers Radio Club and co-founder of the Hayward Genealogical Society in Hayward. Gary was a licensed Hamm Radio Operator (KB6RKR) where he offered nationwide assistance to Emergency Services, and maintained contacts throughout the world. He was also a volunteer for the National Weather Service by providing daily accurate and detailed weather information for the communities of Alameda and Sonoma counties.
He loved spending his free time with photography, traveling, fishing, and playing Pogo on the Internet. Any memorial gifts or contributions may be contributed to the Multiple Sclerosis Society.
Gary's ashes were intered at a private memorial service at the Cazadero Rodgers' Ranch memorial redwood Skipper Tree on Saturday, September 15, 2007.
---



CAZADERO'S 21 ST CENTURY NEWS - FEBRUARY


January rainfall was 0.93" . See the Weather page!

The Cazadero General Store is no longer for sale and has been removed from the Real Estate Multiple Listings.

More advertisements & links are added to the Caz Ads page; a must see. Cazadero Supply was the most recent addition


CHRISTMAS 2003 PARADE PHOTOS ARE ON (Photo album page.) Click to go there


OVER 25,800 VISITS TO THIS WEB PAGE HAVE BEEN MADE (see the counter below) FROM 40 STATES; 2855 visits were made in February after the town site sales captured the media's attention. City of San Francisco visitors are still the most frequent visitors. Vermont is the latest state to log in. A visitor from Poland also signed the guest book in October.

New Caz Community Club (CCC) Members are welcome. Meetings are held at 7:00 PM on the 1st Tuesday of each month at the CVFD firehouse. The CCC meetings will break from December to February.




Visit
the CAZ CHAT ROOM and talk to the Caz Wiz.
It's the place to meet on line. Just click on the Chat
Room button above. Check out the daily cartoon on
this page too; also historic post cards provided by
Chuck Finch. While here, Visit and read the Forum page entry
Cazadero Memories by Ray Bosrich.

A Caz Photo page has been added. The Photos
have been submitted by Website visitors. Click on the Caz Photo
Page button above.

Click the Caz Families' history link for the Adams, Cockrills & Trospers Courtesy of Webmaster Larry Wendt. Historic Caz photos are in web site too. And meet Dr. Bruce Cockrill who was Cazadero's doctor for a half century.

BROWSER TIP! ENTER "CAZADERO" FOLLOWED BY KEY WORDS IN YOUR SEARCH FIELD. i.e. "Cazadero summer dams." Often you will find multiple web sites & pages on your subject.

CAZADERO HISTORY STORY 1 (Click on the Caz
History Story 1 button above). This issue FORGOT
THE STRONG BOX!

CAZADERO HISTORY STORY 2 (Click on the Caz
History Story 2 button above). TWO STORIES:
"Cazadero's Meeting Place - The Train Depot" &
"Whatcha Got In The Mail Bag?"

FROM THE WEB MASTER: THANKS TO ALL THE WEB SITE VISITORS AND THEIR VERY INTERESTING AND INFORMATIVE PHOTO SHARING E-MAILS. Thanks goes to Catherine Canelis for the 1937 Cazadero Calvacade photo. Thanks also to Randy Otis (in Virginia) for the E-mail on your historic Cazadero Otis family. Nice to hear from Kathryn Rian Cole (Dito) in Texas too. : >)

For Bonus photos click on Bonus photo page. Pictures of the SS Cazadero ferry boat in San Francisco bay & the Rodgers' Ranch.


________________________________

CAZADERO (

The Hunting Grounds)

WE SUPPORT OUR MEN & WOMEN IN UNIFORM

United We Stand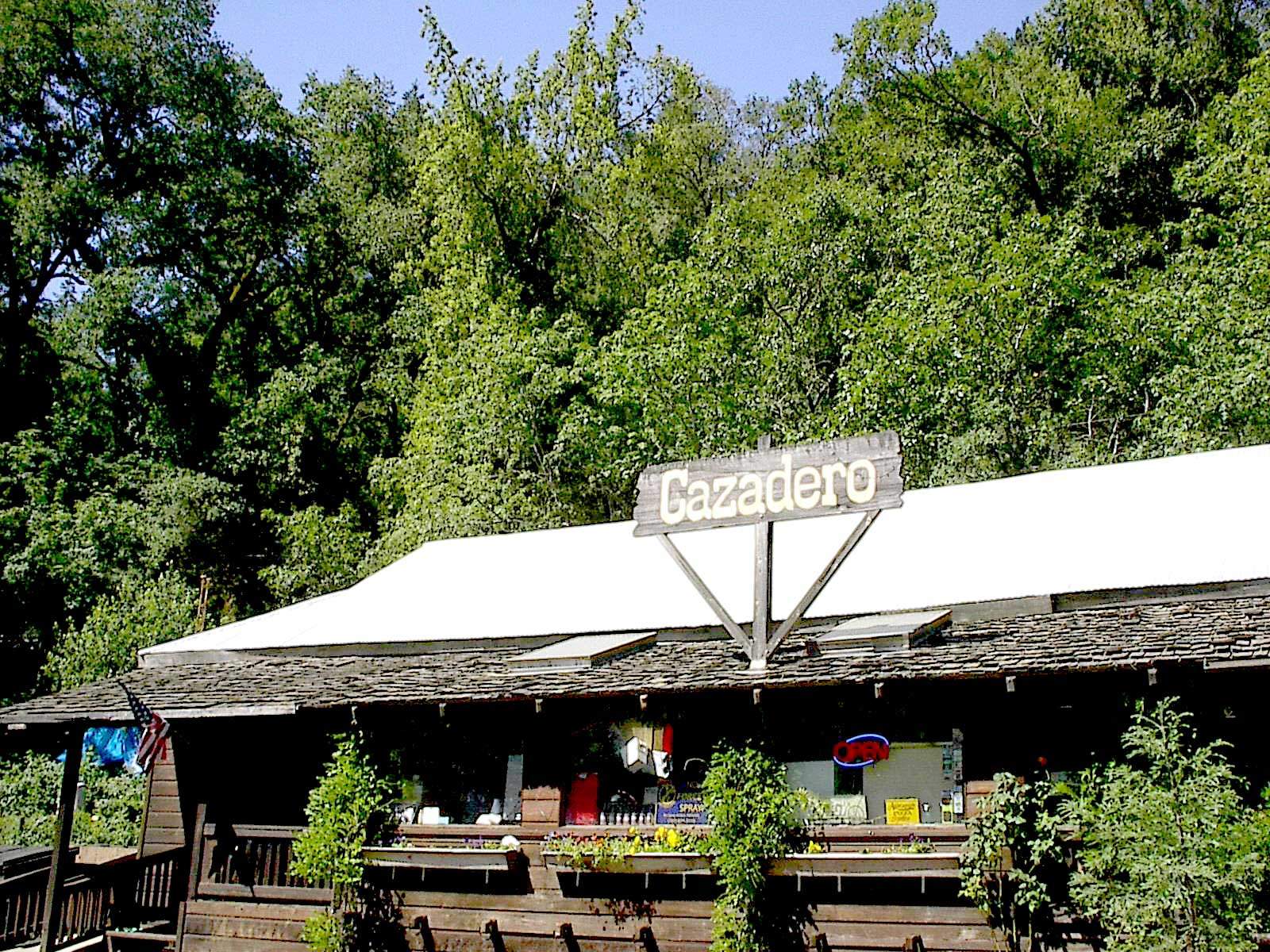 The Cazadero General Store Prop. Dale & Heidi Bohan.
Built behind the North Pacific Coast Railroad depot station house in 1900 & physically moved to its present site in 1919.
---
Welcome to my Cazadero Web Site featuring Cazadero's history & some of my special interests:
Regional Historian for Cazadero, California

Click on Site keys at top or bottom of pages.

(History updated July 1, 2004)
(Q&A updated August 1, 2004 (Q.13 YMCA at Elim Grove -
Camp McCoy)
(Weather updated Feb. 10, 2007
(Flora & Fauna updated March 1, 2004 (Forest fires update)
Americana Site - Collector of:

Barbed Wire (Rev. July 21, 2002)
Square/Cut Construction Nails (Rev. Sept. 25, 2000)
Western Frontier antiques (Rev. Sept. 8, 2002)
Historical triviata (Rev. March 4, 2003 w/new post card)
Click on my special interest Site keys below:
Ham Radio Operator - KB6RKR... CQ, CQ, CQ! (Ham site Revised November 22, 2004 )
* Me & my station photos are on this Ham page *
Family Genealogist Rodgers' Cazadero Genealogy Site updated November 1, 2004 - New family member photo.

Researching Surnames:
---
In Memory of
Dean Forshee
My cousin, who lost his life on Monday January 31, 2000 in the Alaskan Airline's Flight 261 crash near Los Angeles, CA. Dean, born September 14, 1952, was a pedal steel guitarist who often performed with bands at the annual Cazadero Volunteer Fireman's dance benefit.
Dean's ashes were interred at the Cazadero Rodgers' Ranch memorial redwood Skipper Tree on Sunday, September 3, 2000.
Skipper Tree photo link
---