Welcome To
THE CAZADERO
ADVERTISEMENT PAGE
Updated March 1, 2006
WEDDINGS AMONG THE CATHEDRAL
of REDWOOD TREES and FERNS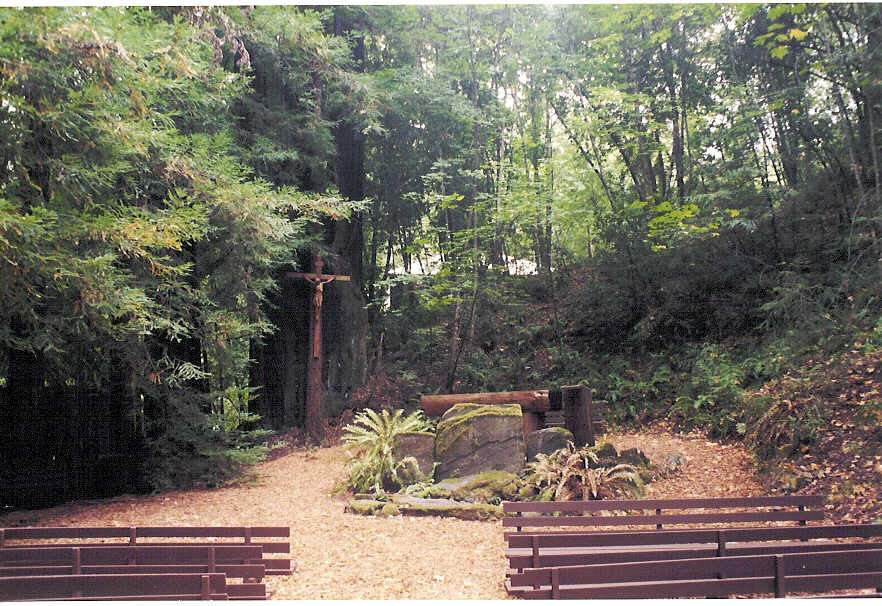 St. Colman Church outdoor services' amphitheater


5695 Cazadero Hwy. Cazadero, CA

The ladies of St. Colman Guild invite couples of all faiths to celebrate their weddings in our outdoor church. The amphitheater will accomodate 300 seated guests

For Information, Please contact

Elaine @ (707) 632-5373

or write

Bette Campbell

P.O Box 509

Cazadero, CA 95421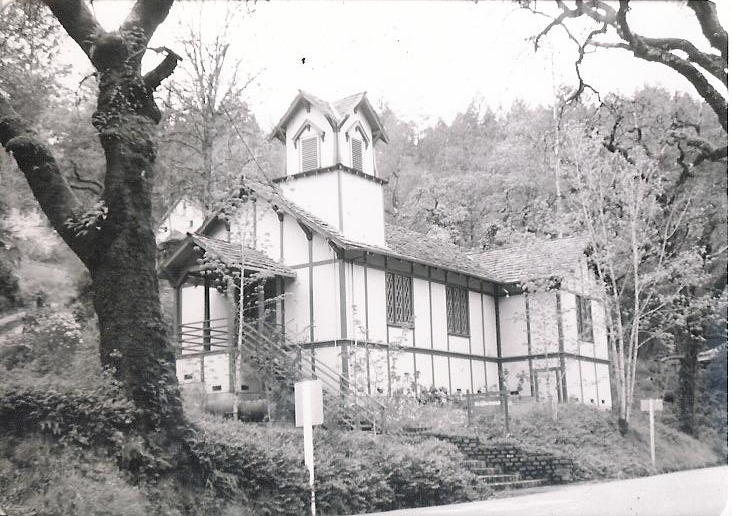 St. Colman Curch April 1976; built 1920
(This photo is for you Marvene, whose grandfather
Mathias (Matt) Aho was a carpenter who built the church.)
---
CAZ CLASSIFIED LINKS
~~~~

Berry's Saw Mill
BUILDING SUPPLIES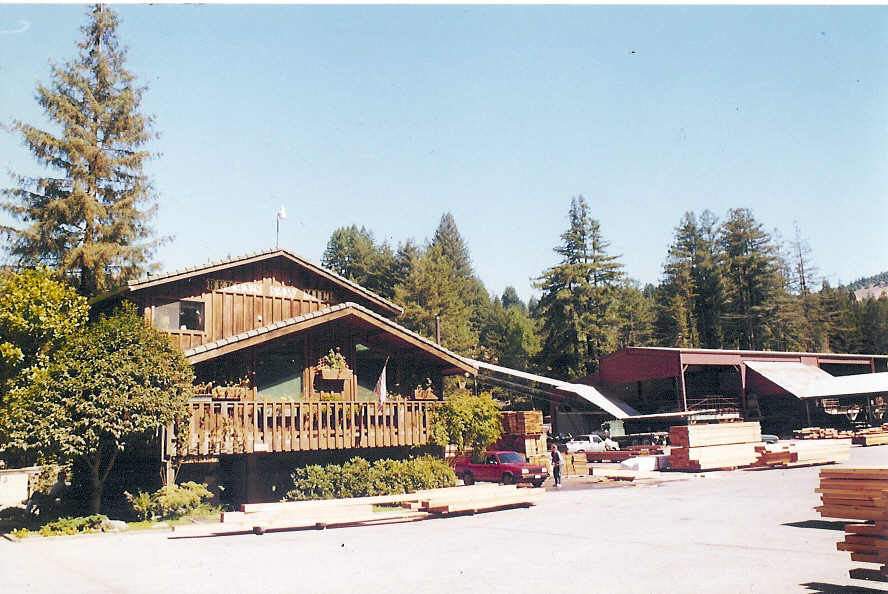 Berry's Cazadero Mill
---
CAZADERO ADS & NOTICES TO BE POSTED HERE.
~~~~
E-Mail me with your submittal
My E-mail
PERSONALS
Chuck McGuire would like to make contact with old friends Ron and Pat Nesset. Any information on their whereabouts would be appreciated. Chuck's E-mail is
mcguireis@comcast.net

COMMUNITY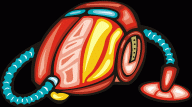 Cleaners needed, starting around April through October, for vacation rental cleaning in Cazadero. Must have vacuum cleaner, car, and telephone. Good pay; no experience needed; will train. Most cleanings are on Friday, Saturday, Sunday, and Monday. Cleaners must commit to working one to four of those days. Call Russian River Getaways at 869-4560 and leave a message for Karen, our service manager. Also see our web sites Russian River Getaways and Cazadero net link
RAYMOND'S BAKERY AT ELIM GROVE is Now Open Thurs. through Monday 7 AM to 6 PM. Raymonds bakery web site link
5400 Cazadero Hwy. (formerly the Elim Grove Restaurant) Telephone (707) 632-5335. Indoors and outdoors tables are available for partaking delicious pastries with coffee and drink.

WANTED
By the Webmaster, Gary Rodgers kb6rkr@pacbell.net
Old Cazadero Post cards and photos
Cazadero memorabilia
Cazadero memories & stories via E-mail
Visit & worship in The Cazadero Community Church - its 103rd year in serving the Lord.
On December 21, 2000 a new steeple was lifted into place and its
dedication was part of the church's Centennial Christmas Eve 2000
service. The church's first service was held December 24, 1900.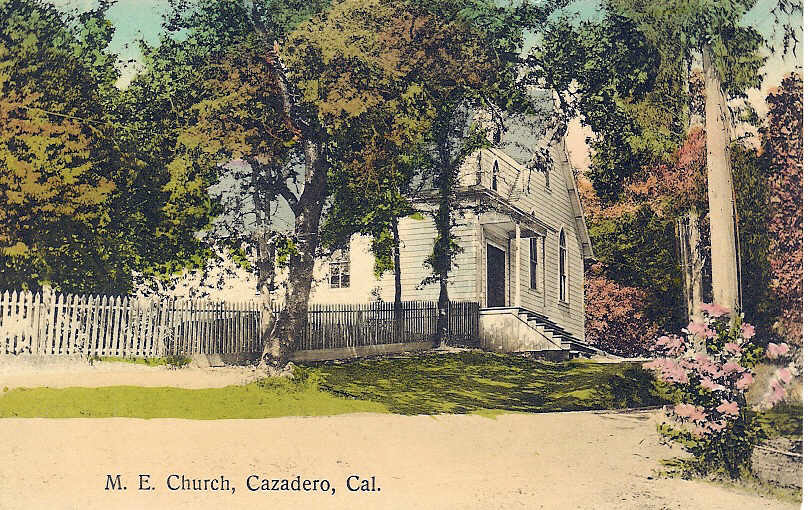 Community church circa 1910 then known as the Methodist Episcopal Church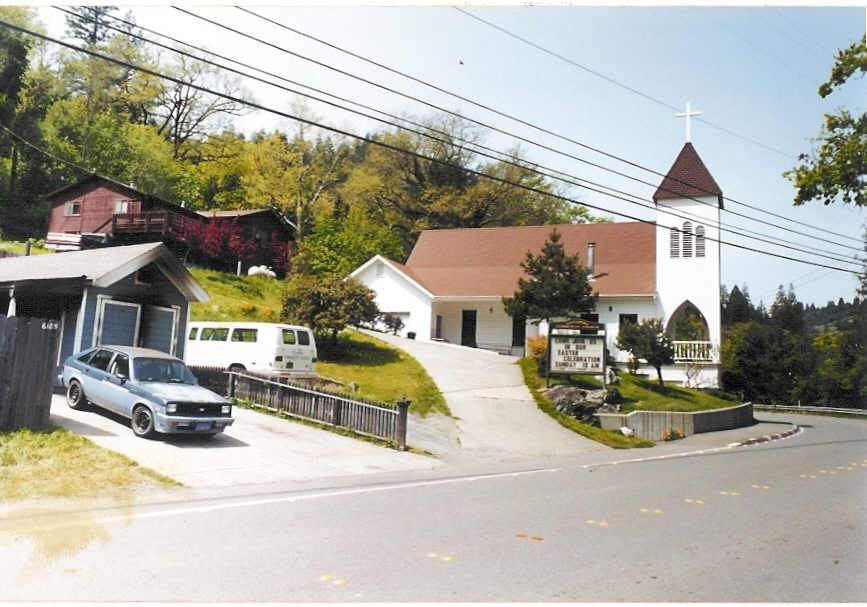 Community church March 31, 2000- Approximate western view as 1910 photo above
Copyright © 2003 - 2004 by Gary Rodgers - KB6RKR. All rights reserved.