NATIVE TREES
Coastal Redwood
Douglas Fir
Buckeye
Madrone
Tan Oak
Live Oak
Canyon/Maul Oak
Black Oak
Valley Oak
Oregon Oak
California Maple
Manzanita
Hazelnut
Bay/Pepperwood/Laurel
Willow
---
MAMMALS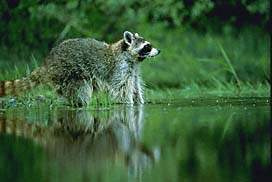 MAY 1, 2002...BLACK BEAR SEEN ON MOHRHARDT RIDGE

Pacific Coast Black Tail Deer
Coyote
Mountain Lion
Gray Fox
Black bear
Bobcat
Ferral Pig
Porcupine
Raccoon
Skunk
Jack Rabbit
Gray Squirrel
Various Ground Squirrels
---
REPTILES

Western Rattle Snake
Gopher Snake
King Snake
Western Skink
Western Terrestial Garter Snake
Western Fence Lizard
Northern Aligator Lizard
---
ENDANGERED OR THREATENED SPECIES
---
California Freshwater Shrimp
(Syncaris pacifica):

The nearly transparent shrimp are found in East Austin Creek. Big Austin Creek is good habitat, but no shrimp count is available from Calif. Dept. of Fish and Game.
DF&G ordered the summer gravel swimming dams being installed in Big Austin Creek to begin phasing out in 1991, and to stop construction altogether in 1996. Official reason for action is that sediments dislodged from their construction and removal "may endanger" the shrimp's habitat. No study was done on the impact of siltation by heavy winter rainfall runoff and flooding, as the DF&G exhausted their funding allocation.
Learn more about the shrimp at this link: Freshwater Shrimp.

In 1999, the Calif. Dept. of Interior, acting on a complaint, stated that it is illegal to construct any type of temporary dam. Summer dams have been placed in Austin Creek since the 1880s and were a mainstay of Cazadero's resort history.

Click the Dam Info Page buttton for their history and current activities; news.


TAKE AUSTIN CREEK'S SUMMER DAM POLL/VOTE
(Read the Freshwater shrimp article above)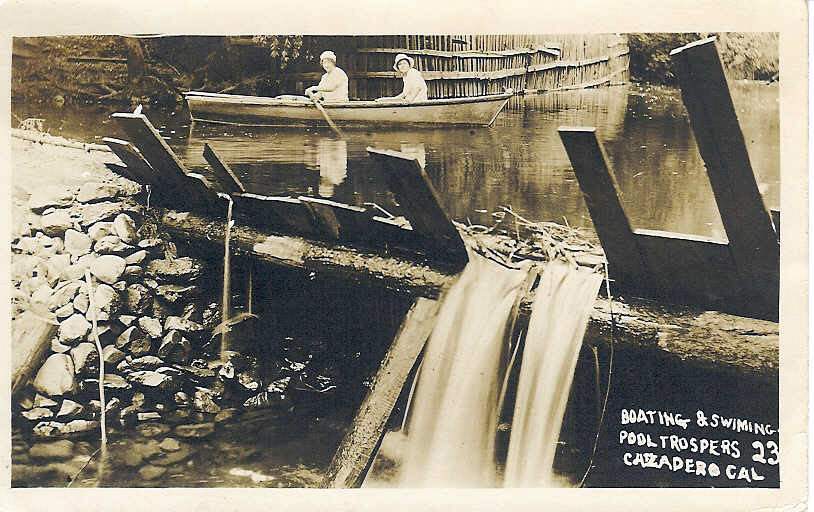 Trosper House dam circa 1924
---
Northern Spotted Owls?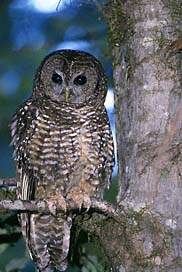 There have been siteings. Contrary to public & media hype, the Spotted Owl (Strix occidentalis caurina) is not confined to "old growth" redwood forests. Their best habitat is in forests that have multispecies multilayered trees with about an 80% canopy. The best forest habitat includes fallen trees, broken top trees, trees with trunk cavities, oaks with mistletoe infections and forest floors with decaying deadfall. One reason for their apparent species decline is that they are mating with the eastern Barred Owl.
---
CONTRIBUTIONS?
Do you have stories, observations or environmental concerns? E-mail me or use my home page Guest Book Comments link.

FEEDBACK:

Q. Beaches on Ward and Austin Creeks are being advertised on the Internet and the people that use the sites are leaving refuse behind. What can be done about it?
A. They are trespassing on privately owned land. The land owners have been issued a book of tickets by the Sonoma County Sheriff's Office and are authorized to issue them. Those that are ticketed are required by law to appear before a court. If damage is done to the property appropriate restitution will be made by the offender.


Note: The state of California claims ownership of all water in "Blue Line" streams (streams marked in blue on Topo. maps) and land owners are by law to keep their stream beds clear of refuse, etc.


Q. What is a "Water Scooter", the insect we called "Scooters" as children and whose shadow could be seen on Austin Creek's pools and ponds behind the old summer dams? Sometimes the larger fish would snap them off the water, but more often they missed them.
A. It is an insect more commonly known as a Water Strider. Click on the link Water Strider to learn more about it. The Striders are relatively safe now and their activity is confined to the more isolated and stagnant mosquito abundant pools


-

Axing For Help
June 1920

George Montgomery's wife, Carrie, wrote a letter to R. G. Sproul of the Save The Redwoods League in Berkeley requesting help in preserving the redwood trees she and her husband owned in Elim Grove. The response was, "We believe we are not mistaken in assuming that as long as you own them they will not be cut." The property was in Carrie's name. Were there $$ troubles in the Montgomery household?




---
FERNS
Calif. Maiden Hair
Giant Chain
Sword
Western Bracken
Coastal Wood
Licorice
Horsetail
Golden Back
---
Cazadero's Forest
#1 Environmental Issue?
California's increasing population,
increasing demand for land, and
increasing property tax rates on large land holdings.
---
BIRDS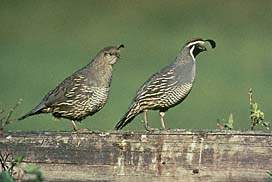 Caz Quail
Bald Eagle - Sighted 1978,'79,'02
Northern spotted owl
Wild Turkey
Turkey Vulture
Black Vulture
Raven
Stellar Jay
Valley Quail
Ruffed Grouse *
Red Tailed Hawk
Rock Dove
Mourning Dove
Band Tailed Pigeon
Great Horned Owl
Barn Owl
Screech Owl
Pygmy Owl
Pilleated Woodpecker
Yellow Bellied Sapsucker
Oregon Junco
Robin
Wild Canary
Northern Shrike
House Sparrow
Black Capped Chickadee
Black Phobe
Linnet
Hummingbird-Anna; Rufous
* Ruffed Grouse are disappearing from Cazadero's forest. Feral pigs and Coyotes have been eating their eggs. A significant decline was noticed in the mid 1970s when the pig population was at its height.
---
Edward and Annie Broz began their Cazadero Broz resort in the early 1930s. In 1949 Annie said, "When we came up on the train, my husband was riding on the back of the train platform. He got so excited over the beautiful scenery that he lost his balance and fell from the moving train (near Elim Grove). The train stopped for him, but he decided right then and there he wanted to stay."





---
Millers Retreat (1906-1949) had an open air dining hall that had no rear wall. The dirt bank behind the structure sloped to the dining area and offered the patrons a magnificent view of the natural ferns that grew there. A fire consumed the dining hall in 1949.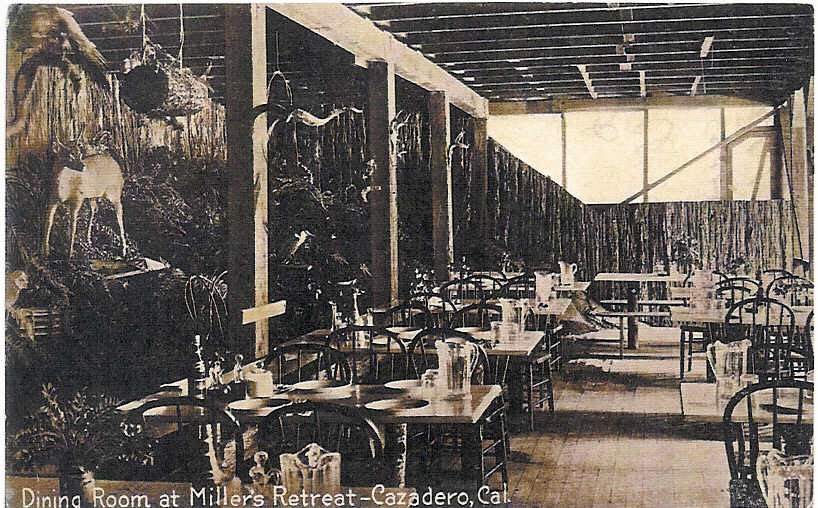 Millers Retreat's lodging building was torn down in the early 1950s (rotted foundation) & was located at the present site of St. Colman Church's outdoor services amphitheater.

** The St. Coleman (sic) carved wooden sign there is misspelled **
---
The California Redwoods - Coastal Redwood (Sequoia semperviren) & the Sierra Giant Sequoia (Sequoia gigantea) - are the tallest and largest living organisms in the world. The Humboldt Co. "Founders Tree" Coastal Redwood is the tallest (364 Ft.). The Sierra's "General Sherman" tree is the largest (274.9 Ft. tall; 102.6 Ft.circumference at the tree's base). For the timber cruiser, that's 52,500 Cubic ft. Both tree species are adopted as the California State Tree.

To grow redwood trees from seed: Collect the dropping seeds from their cones on a tarpaulin spread on the ground. To grow redwood trees from seed: Collect the seeds from the tarpaulin then put them in a bucket of water. The pollenated seeds will sink and the unpollenated will float . Skim off the unpollenated seeds and keep the pollenated seeds wet or damp until they germinate. When a small protruding growth starts on the seeds plant them in individual pots filled with nutrient rich potting soil. Toothpicks inserted next to the new plants will help them to grow straight. Make sure that birds can't get to the seedlings! They'll gobble the entire plant when the seed husk is still attached to the new growth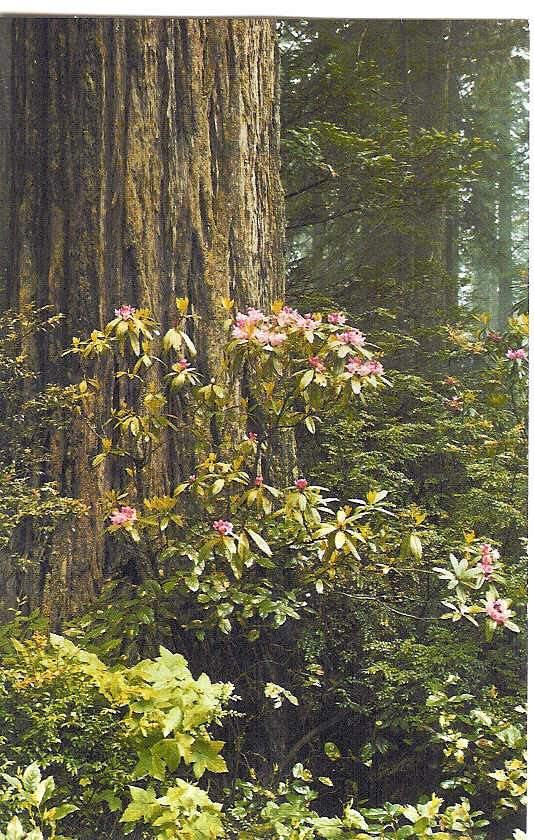 THE BIRDS MISSED THIS ONE!
---
STUDY LINKS
Visit Austin Creek State Recreational Area to do independent study on Cazadero's Flora & Fauna - Click on the ACSR link to learn how and where.
For interactive plant identification photos link to
Plant photographs.

------------------ Column 3 ------------------->

SHRUBS

Raspberry
Gooseberry
Christmas Berry
Oso Berry
Thimbleberry
Calif. Blackberry
Snowberry
Cream Bush/Ocean Spray
Poison Oak
Mistletoe
Ninebark
Wild Rose
Wood Rose
---
WILD FLOWERS
This is a list of the more delicate or colorful flowers found in the region:
Buff Pea
Buttercup
Calypso (My favorite, top photo)
Diogenes Lantern
Fairy Bells
Fringe Cups
Fritillary
Geranium, Cranesbill
Calif. Golden Poppy
Indian Paint Brush
Douglas Iris
Johnny Jumpups
Larkspur
Lotus
Mariposa Lily
Mission Bells
Wild Onion
Ookow
Purple Sanicle
Wild Rose
Woodland Shooting Star
Sky Lupine
Solomon's Seal, Fat & Slim
Star Lilly
Trillium, Giant & Coast
Wooly Sunflower
Yerba Buena
---
Wednesday March 12, 1884
Tom Trosper (age 58) and his son Ernie (age 26) "killed" a 16 pound salmon in Austin Creek at its confluence with Bearpen Creek. They waded into the creek and speared it.


---
BEARPEN CREEK was originally known as Bear Trap Creek for pen enclosures that Tom Trosper used to capture Brown Bears during the years 1866-1876. Tom was badly mauled by a bear in 1867 on the current Rodgers' Ranch. His hunting partner from San Francisco dropped his rifle and climbed a tree to get out of harm's way. Tom's dog "Trash" came to the rescue and saved his life. Wotta Dog! Wotta hunting partner?





Exam:

Approximately, how old was Tom Trosper when he was mauled by a bear? (clue, see salmon article above) Answer found on this page.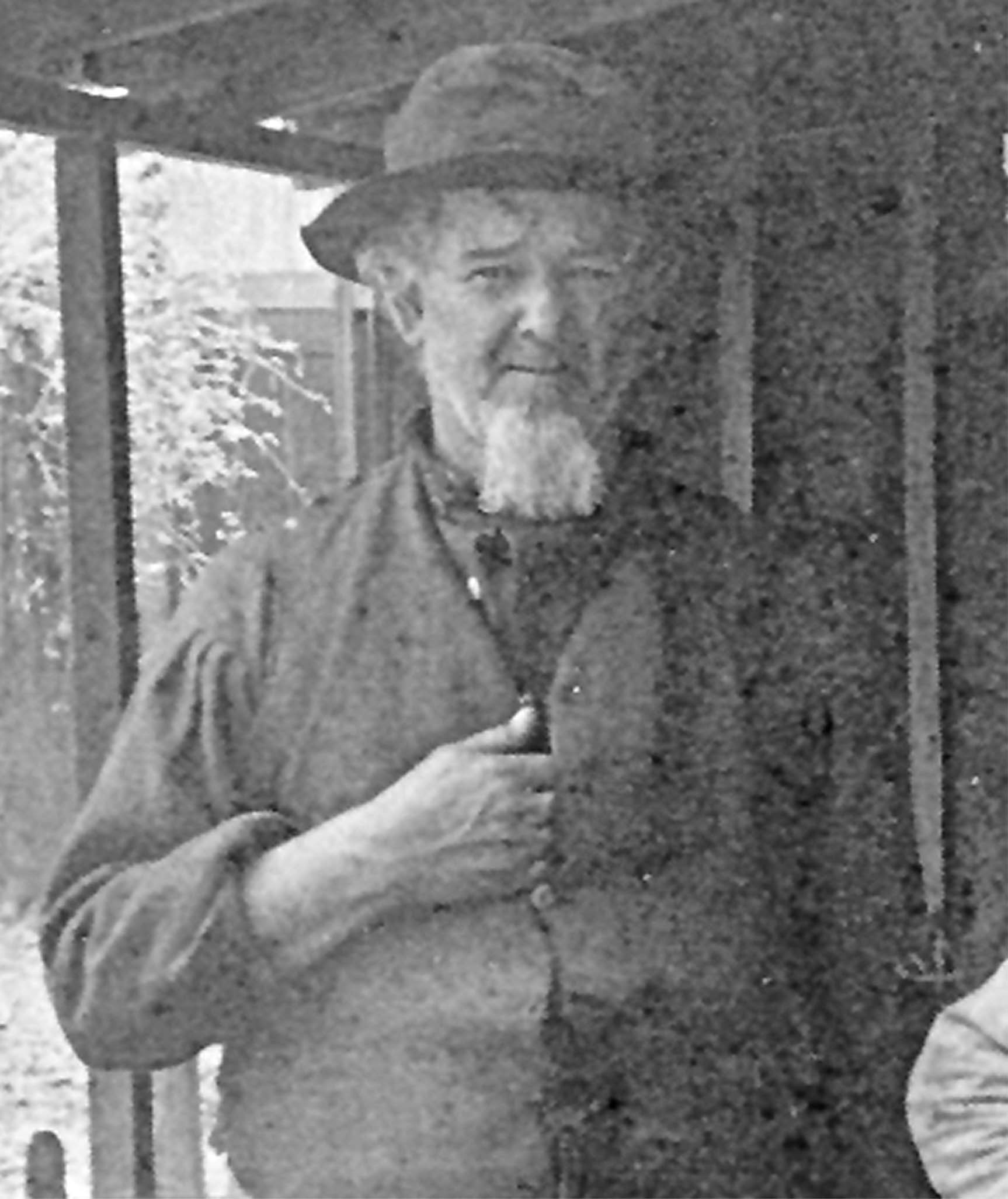 Tom Trosper at his Bearpen Creek home in 1892 Tom's genealogy link Tom's family tree link.
---
Otters

North American River Otters have been sighted in Austin Creek in the recent past. They were fairly abundant in the 1800s. There is no evidence that the Aleut hunters at Fort Ross (1812-1841) trapped Austin Creek, but the otters were taken by Anglo trappers in the mid 1800s.





---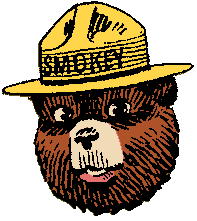 PREVENT FOREST FIRES
CVFD was established in 1948 after Al Maher's Quonset hut style Elim Grove Restaurant burned to the ground.
Cazadero VFD'S first fire truck - Engine No. 811 (1948). 1942 War Surplus 4WD with 350 gal. water tank. Hoses outfitted with fog & high pressure stream nozzles.
Jack Barry was Cazadero Volunteer Fire Department's first Fire Chief (1948-1950).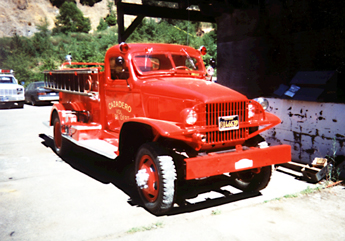 Recent Campaign Forest Fires
Charles Fire
July 28, 1954 Started from bulldozer welding on Charles Ranch near Niestrath Rd. & burned to Russian gulch on the coast - 10,000 acres. The fire also destroyed the Aho ranch house and the Creighton Ridge school house.
Watson Gulch Fire
Sept 1, 1961. Arson fire Started in Watson Gulch near Guerneville and burned to Austin Creek at its confluence with Russian River and to within 1/2 mile of Boy Scout's Camp Royaneh - 5769 acres.
Magic Mountain Fire
September 1965. Down PG&E Electric wires began fire in the Magic Mountain subdivision. It burned to near Jenner and then reversed to threaten the Cazanoma Lodge on Kidd Creek. Heavy fog moved in on 4th day to lay it down. About 7,125 acres burned.
Creighton Ridge Fire
August 9, 1978. Lawn mower sparked fire originated on Creighton Ridge and followed much the same western course as the 1954 Charles Fire. Its eastern advance stopped near Dugans Pond on Mohrhardt Ridge - 12,000 acres.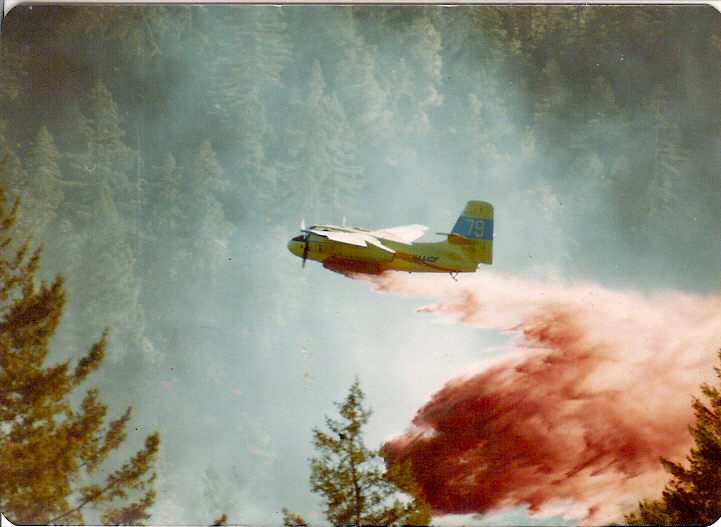 ---
POLE MOUNTAIN FIRE LOOKOUT
Lookout tower link.
---
BONUS PAGE
---