CAZADERO, CALIFORNIA HISTORY
Updated July 1, 2004

CAZADERO is a small town located in Sonoma county's western redwood forest and is about 13 road miles northwest of Guerneville. The town is situate deep into Austin Canyon and occupies a narrow strip of land in a sweeping bend that had been carved out of the canyon's steep slopes by Austin Creek's sometimes tumultous waters. The stream's course follows a sinuous path through the narrow canyon and finally widens into a flood plain where it empties into the Russian River near Duncans Mills. Cazadero's town center is about seven airline miles east of the Pacific Ocean and is best reached by driving 6 miles north on Cazadero Highway from its junction with HWY 116. Cazadero Highway was originally the North Pacific Coast Railroad's narrow gauge track roadbed that connected Cazadero with Duncans Mills.
The town was originally a hunting resort called "Ingrams" begun by Silas Deras Ingram in 1869. When Silas successfuly negotiated a post office for his resort in 1881 it gained status as a town site. The Feds, however, named the post office "Austin" after the creek and the new name began appearing on travel maps. Silas was more than a trifle irritated about the name as he had spent a lot of money advertising "Ingrams". In 1886, after considerable negotiating and political persuasion, he finaly managed to have the name changed to honor his surname. Having sucessfully persuaded the North Pacific Coast Railroad to extend its rail line from Duncans Mills to his Ingrams town in 1886 was the final argument needed for the Post Office Department to effect the name change.
George Simpson Montgomery, a wealthy businessman from San Francisco, purchased the town in January 1888 and changed its name to "Cazadero" (Spanish for "The Hunting Place"). In 1885 Montgomery had purchased the plush 1000 acre Lytton Springs resort near Healdsburg and, unlike Lytton that was fully developed when he bought it, he viewed this new Cazadero property as a slendid investment growth opportunity through subdividing the land, selling its lots and developing it into a new tourist and sportsman resort town for the Bay Area folks. At the time of the Ingram's purchase, George was listed in the Social Register, the San Francisco Blue Book, as living in the world-famous Palace Hotel and holding membership in the Exclusive Bohemian Club. He was also known locally as being a two-fisted drinking Bohemian Club member and a man for good times. In 1890 he became a "Born Again" Christian and tried to make his Cazadero a temperance town through the use of "restrictive covenants" but, there were many clandestine bootleg stills hidden in the hills to counter his efforts. A Hunting resort and temperance town just did not go well together. (Note: Beside forbidding intoxicating liquors, spirits and malts, the Restrictive Covenants also forbade "any specimen of card or dice playing, gaming or gambling". Doing any kind of business could only be done with Montgomery's expressed permission and paying him a business tax.")
Silas Ingram moved to Haywards (Hayward), CA where he became a buyer and seller of real estate. He also obtained an electric franchise here from the Oakland based California Electric Light Company in August 1888 to power up the town. Silas also kept his Cazadero ranch which is currently known as the "Lion's Head Ranch." He died on his ranch June 8, 1900 at age 79. More about Silas's family
When Cazadero was the site of the North Pacific Coast narrow gauge railroad line's northern most terminus Montgomery's temperance helped to precipitate the "Austin Creek Train Tragedy" of January 14, 1894. A liquor and party run to Duncans Mills by the train crew on a stormy night resulted in the death of 7 men when the pirated Engine No. 9 plunged into Austin Creek while attempting to cross the storm weakened trestle at Elim Grove. The body of Frank Hart (A proprietor of the Cazadero Hotel) was never recovered and it is surmised it was carried out to sea. The body of Joseph Sabin (Cazadero's station agent) was found by an Indian magic man lighting a candle that he affixed to a board and then floating it downstream. The little raft was caught in an eddy current and floated into a tangle of brush and debris. Suddenly the candle flickered out after the raft circled several times and it was here that Sabin was found on the 10th day of the search. [Side note: My great grandfather, David A. Rodgers, was one of the men who waded into the creek to retrieve the bodies. See my Genealogy page.]
---
A View of Cazadero
(looking north)
Top: Cazadero Northwestern Pacific Railroad terminus 1920 (narrow gauge tracks). In 1906 NWP consolidated with the North Shore RR, which had purchased North Pacific Coast RR in 1902.
Bottom: Cazadero 1930. NWP Engine turned south for departure to Duncans Mills. Rail tracks broad-gauged in 1926.
A filing by the NWP to abandon the Cazadero rail line was approved by the California Railroad Commission on May 13, 1933 and the last train to leave Cazadero was on July 31, 1933. Engine No. 23 carried a funeral wreath placed on its headlight by the Cazaderans all the way to its Sausalito yards.
As part of a George Montgomery sales agreement to sell his entire Cazadero holdings to Samuel Break and Rufus Chapman, made on February 26, 1907, Break and Chapman had to remove or inventory for removal 7.5 million board feet of redwood timber by January 1, 1910. Fortunately for the community the deal fell through. Chain saws were not available then and the two men were unable to obtain the manpower and resources in time to honor the agreement and pay the sales price. Sam Break was not too keen on cutting the trees anyway. After the loss of the railroad and its tourist trade in 1933 the community needed the forest's sustained yield and its products to make its economic recovery.
I am currently finishing writing Cazadero's history and would be delighted to swap the community's stories and historical information. I'm also looking for old area photographs and postcards. Just E-mail me (link at bottom of page) to get our dialogue underway. The title of my book? "Cazadero - The Hunting Place"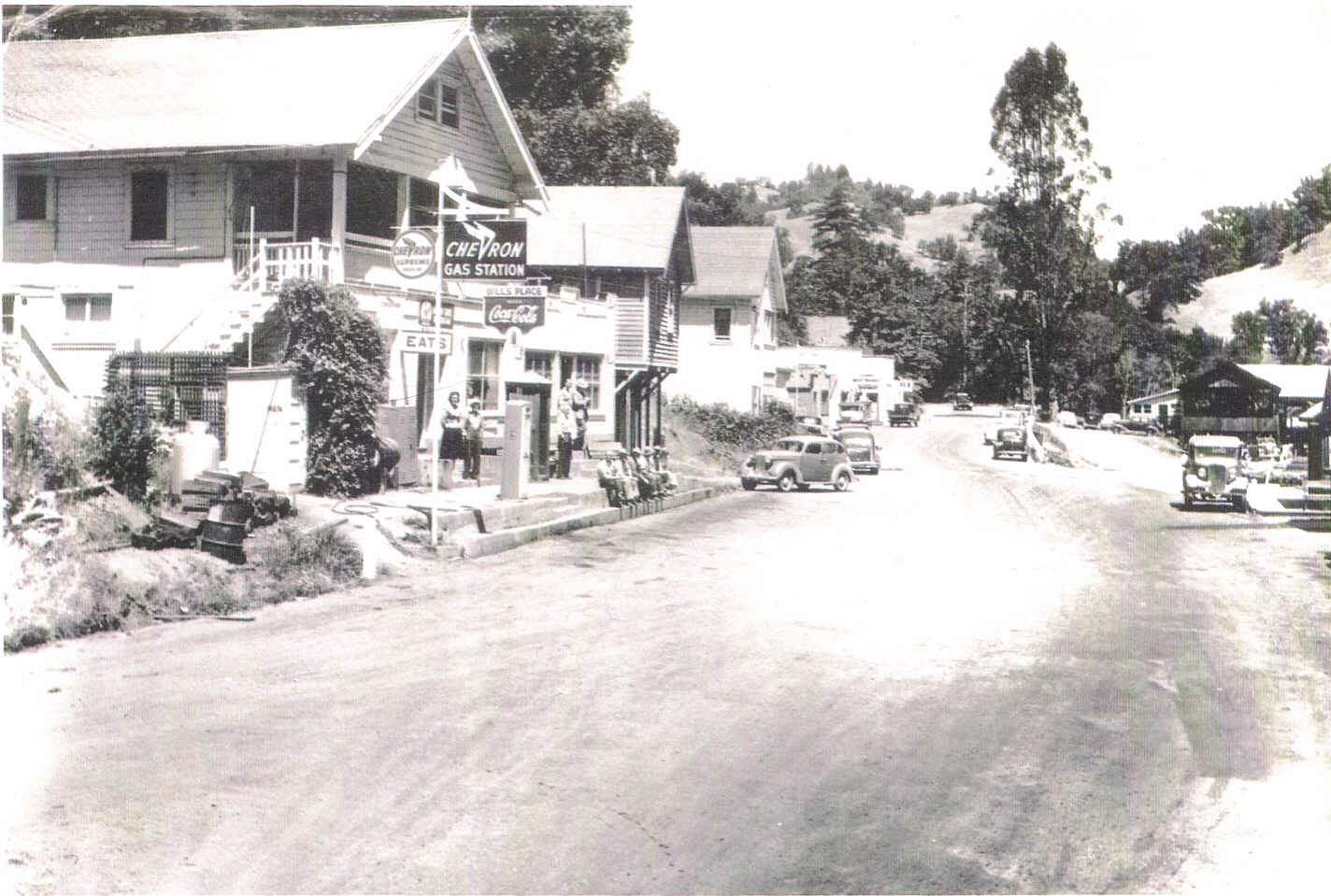 Cazadero Circa 1948. Berrys sawmill in right background. Bill Britton's "Bills Place" bar & store to left (future site of the Cazadero Community Center & museum). In the 1950s Bill renamed his bar the "Sky Room".